Agroecology brought to the COP 15
Desertif'actions 2022
From May 09 to 22 in Abidjan, Ivory Coast
The second phase of Desertif'actions 2022, took place from 9 to 21 May 2022 in Abidjan, Côte d'Ivoire, where the 15th Conference of the Parties of the Desertification Convention was held. The civil society organizations have made recommendations to include agro-ecology as a relevant path for the implementation of the Convention.
The theme of the COP15 was: "Earth. Life. Legacy: From scarcity to prosperity". During this session, the progress made under the Convention on the following themes was to be examined: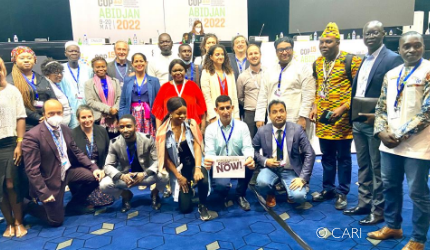 Migration
Drought
Gender Equality
Sand and dust storms
Land tenure
Land Degradation Neutrality.
Delegation of members of partner networks
29 representatives of associations from 13 countries.
During this COP15 the delegation of partners structured around Désertif'actions organized several events co-constructed on the basis of the results of the preparatory phase.
Valorization of Désertif'actions' results
Among the various events, the side event organized by the Sahara and Sahel Observatory and CARI, on the Africa Pavilion, presented the dynamics and the Desertif'actions summit. Nabil Ben Khatra, Executive Secretary of the OSS, Patrice Burger, President of CARI and Marcos Montoiro, UNCCD liaison officer with civil society, introduced the session during which the main actions carried out so far and the main existing publications were presented.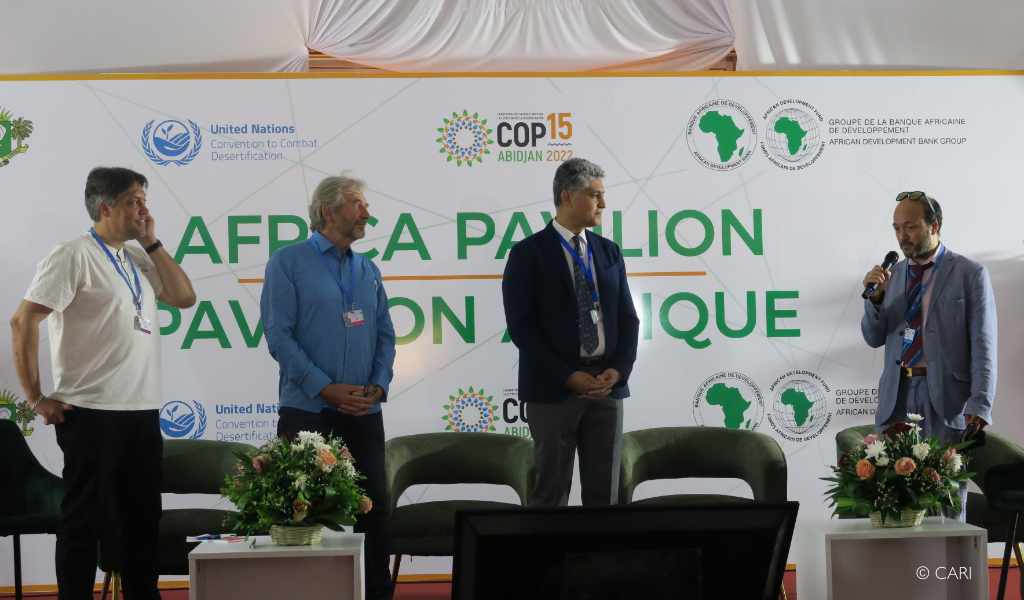 About fifty participants were present and Hermann Kouame from the organization Change Humans Life presented how the national workshop Désertif'actions in Côte d'Ivoire was conducted. On this occasion, the kit summarizing the work of the 17 preparatory country workshops for D'a22 was distributed, and in particular placing agroecology as one of the elements of solution in relation to the themes discussed at COP15 (drought, migration, neutrality, food security, etc.). The discussion moderated by Christophe Brossé was lively and showed a strong interest of the participants for D'a22. The UNCCD mentioned that it was attached to this international meeting and that the transition between the last and the new CSO panel should be made there.  
Desertif'actions, agroecology at the heart of solutions
A presentation session on the dynamics and the Desertif'actions summit was proposed by CARI on the stand shared with CSFD and IRD. A dozen participants were able to ask questions about the event and the different forms of involvement possible. This time of exchange also allowed participants to share their agroecological experiences and to discuss the obstacles and levers to the deployment of agroecology in their respective countries.